Clearwater and Tampa Wedding Photographer
Inspiration. Power. Impact.
Wedding pricing starts at $2100.
Engagement Session $350
Welcome! I am a Clearwater and Tampa Wedding Photographer that specializes in luxury weddings and small beach elopements. I also offer engagement sessions in Clearwater, Tampa, St. Pete, and beyond.
Don't Know Where to Start? Look Below.
Best Tampa Photography Locations.
The wonderful thing about Tampa Bay is that there is a wide variety of options available, including natural beaches, historic momuments, and green parks. All of the locations can be utilized for a variety of purposes including engagement, couple, family, and wedding sessions. However, they each have unique offerings that should be considered when picking the ideal location for your session.
Portfolio, Blog & Wedding Advice
Documentary Wedding Photography
Packages Starting at:
Up to 6 hours Wedding Coverage
Top Wedding Photography Questions
I posted about photography and videography on Facebook and was approached by Donald Sexton. He said, no strings attached, we could talk over photography so I knew what to look for. His work wowed me beyond belief. Then our phone call happened and it was fantastic. So personable and professional. Answered every single question I had and helped me tremendously. If it weren't for me and my fiancé having to go a whole different route for our wedding idea. I would have hands down chosen Donald Sexton photography. If you are on the fence, do a phone call, look at the work and see for yourself. I truly feel he would have been a perfect fit for us, and I would have recieved everything I could have ever wanted.
Donald did AMAZING. Amazing actually isn't even the word. I cried all over again looking at my wedding photos! I don't remember much of the night bc it was so busy, and so much happening, but bc of Donald I get to remember it all over again. He is AMAZING at what he does and worth every single penny!
I couldn't of asked for a better photographer for my special day. Donald did a tremendous job and got exactly the photos I wanted. I would highly recommend him. He got the best candid shots and that's exactly what I was looking for. Thank you for your professionalism and your patience with my procrastination!!! YOU truly picked the right profession. : )
These pictures are absolutely stunning and we couldn't be happier with them. You have done an outstanding job at capturing the most important day of our lives. Thank you so much for lending your talents to us for the giveaway, and thank you for being such an easy person to work with. We wish you the best and hope to cross paths again one day!
Donald was amazing! Getting married feels so quick and like your getting pulled a million places. I really wasn't sure what to think before getting the photos. I felt as though we didn't take enough! But once I received the photos wow! The quality of his work is amazing. He captured so many perfect moments. The photos are everything I could have hoped for and more. On top of how great the photos are he is very personable with a good sense of humor. I am very pleased and definitely recommend him. Thank you for all the great pictures Donald !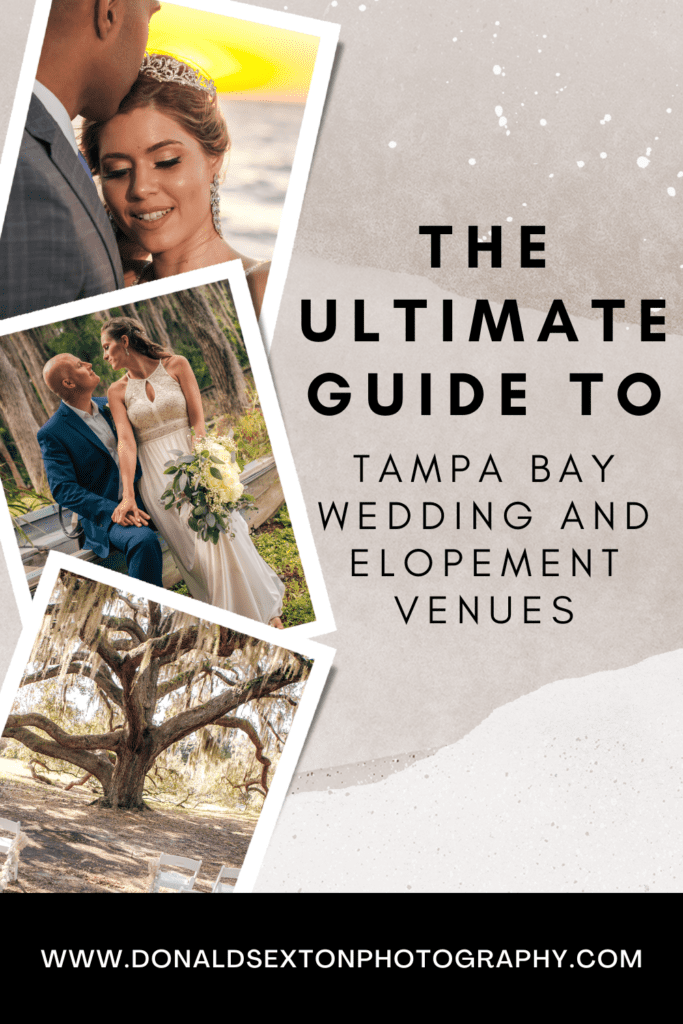 Location. Location. Location. Aside from the photographer, the venue, or location that you choose to have your wedding, is one of the most important decisions
Read More »
If you need a Clearwater Wedding Photographer, Tampa Elopement Photographer, St Pete Engagement Photographer or even a Destination Photographer it's never to late to email me!
Always excited to talk about your big day.