So, you just got access to your gallery and are ecstatic to share your favorites with all your family and friends. You sit down on the couch, pull out your tablet, and begin carefully selecting your favorites to add to Facebook and Instagram. As you carefully peruse the gallery, you glance up to see a noticeably bland wall and empty coffee table. What once screamed chic and minimalist, now just seems bare and bleak. You have friends coming over for dinner next weekend and a few, carefully curated touches would add just the spice you need to the room. But where do you start?
A Timeless Album
There is a reason that albums have continued to persist despite the digital age. They are a simple, yet beautiful, way to share your pictures with family and friends. They also make a great addition to any coffee table or side table. While your friends are sipping wine and waiting for dinner to start, they can make themselves comfortable and flip through your photos, dutifully taking in all of the intricate details of your Big Day. Over the past decade, albums have been given a face-lift and can be bound together with thick pages for seamless lay-flat spread.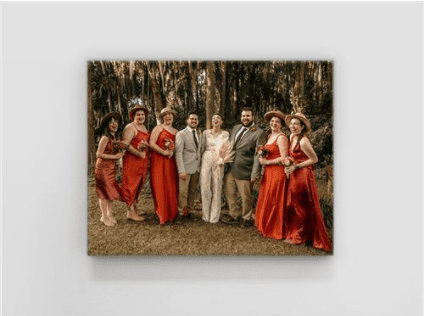 A Textured Canvas
Those blank walls can literally become a gallery of their own, featuring your favorite images on canvas. Not only is canvas durable, it also adds dimension to your photos, as the photo wraps around the canvas. You can customize the shape and style of your canvas to fit any space or wall. If you want to create a more dynamic wall, you can include multiple canvases in one space.
A Vintage Calendar
Everyone needs a calendar in their life – either at home or the office. What better way to spruce up a bland calendar then by adding your favorite photos and people? These not only make practical staples to your home; they also can make great gifts for parents or in-laws, who have undoubtedly assisted in making your day special. Hint: Personalize the calendars to include your anniversary date and birthdays.
A Personalized Greeting Card
Preparing to send out countless thank you's to wedding attendees for their thoughtful gifts? Utilize personalized greeting cards to send your gratitude. Less likely to get tossed, your friends and family will have professional images from your wedding to put on their fridge or place in an album.
Interested in preserving some of your favorite moments? All of these products can be purchased easily through your gallery. Simply click the "shop" button on the top left of the screen to find these options and more.